Area map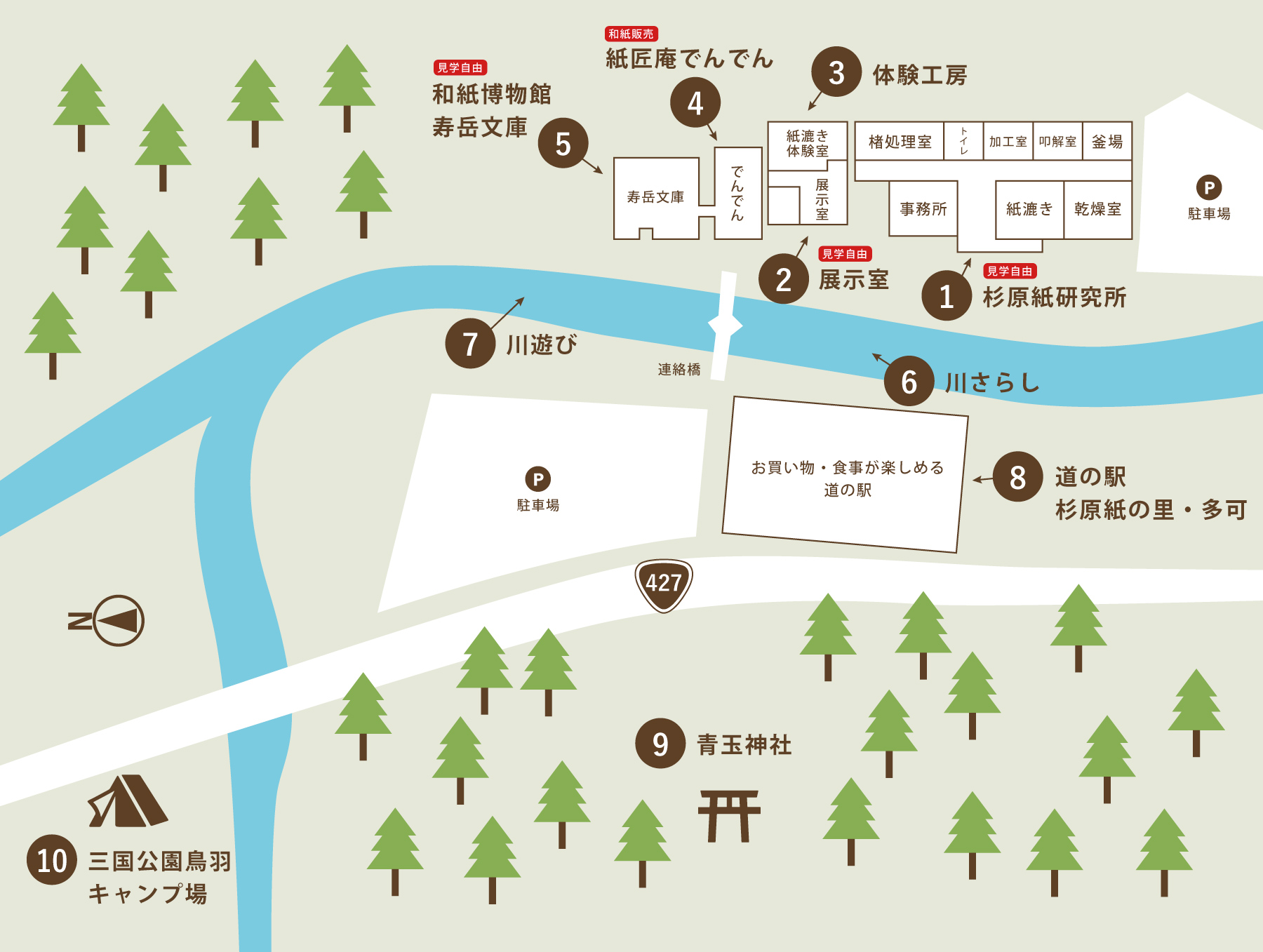 Days Closed:Wednesday (the following day if it is a national holiday), New Year holidays
1

Sugihara Paper Laboratory

We carry out the processes of making Japanese paper inside the Sugihara Paper Laboratory, except for mulberry cutting and soaking in the river.
The production processes can be observed freely, so please feel free to come and visit.
※ Some processes may not be carried out due to the season or time slots.
→ View each process

2

Exhibition room

Works using the Sugihara paper are on display.
The works change regularly and stay only for limited periods of time, so you can see the works by different artists.

3

Experience studio

You can experience the Japanese papermaking process.
Why don't you make your own original Japanese paper?
→ Detail

4

Paper shop

The Sugihara paper and Japanese paper accessories are on sale here.

5

Japanese Paper Museum "Jugaku Bunko"

This Japanese Paper Museum exhibits materials related to Sugihara, which boasts its history and traditions.

6

Soaking in the river

White tree bark is soaked in the Sugihara River overnight, whitened using the powers of nature such as the cold water, sunlight, snow, etc., and cleaned using the water in the river to remove inclusions and impurities.

7

Playing in the river

Clean water is essential for making high quality Japanese paper.
During summer you can enjoy playing in the river in which the "soaking in the river process" takes place.

8

Michi-no-Eki (road station) Sugihara-gami-no-Sato (Sugihara Paper Village) – Taka

At the road station "Sugihara-no-Sato – Taka", you will find food in which special ingredients are used and souvenirs limited to this region on sale.
→ HP

9

Aotama Shrine

The Aotama Shrine is a power spot.
Seven large Japanese cedars growing in its precincts are registered as natural monuments designated by Hyogo Prefecture, and there are several cedars which are thought to have an estimated age of 1,000 years.

10

The Mikuni Koen Toba Campsite

Here you can camp in a relaxing manner while being surrounded by rich nature.
You can also enjoy playing on the banks of the river with crystal clear water.